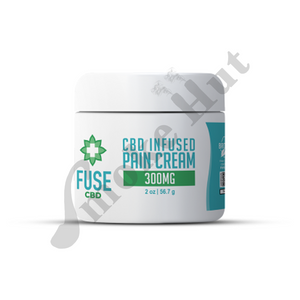 Fuse CBD - CBD Infused Pain Cream 300MG
Revitalize your skin and muscles with our lightly scented soothing pure broad-spectrum Fuse® CBD pain cream infused with moisturizing essential oils. Experience fast-acting support with our soothing topicals and see for yourself how easy it is to incorporate the power of Fuse CBD into your daily skin routine.
Our rich topical CBD cream formulation is infused with pure broad-spectrum CBD extract, essential oils, turmeric, arnica. It is a proprietary blend, that is perfect for quickly unleashing site-specific effects.
A harmony of pure cannabis oil extract, emollient Argan and Jojoba oils and fragrant terpene limonene and apple extract promote skin health and rejuvenation.
The turmeric and arnica work well on your inflammation. Wonderful for holistically minded self-care.
Non-toxic, non-addictive, and non-psychoactive
Derived from the US-grown industrial hemp. Contains No THC, legal across the United States.