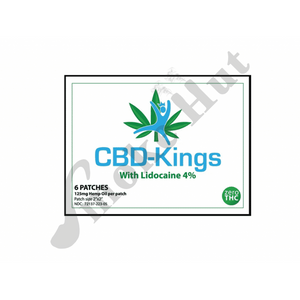 CBD Kings - CBD Patches 125MG
CBD-KINGS WITH LIDOCAINE 4%

ACTIVE INGREDIENTS:
LIDOCAINE 4%
MENTHOL 3%
METHYL SALICYLATE 9%
CAMPHOR 1.2%

PURPOSE
TOPICAL ANESTHETIC
TOPICAL ANALGESIC
TOPICAL ANALGESIC
TOPICAL ANALGESIC

USES:
FOR THE TEMPORARY RELIEF OF MINOR ACHES AND PAINS OF MUSCLES AND JOINTS ASSOCIATED WITH ARTHRITIS, SIMPLE BACKACHE, STRAINS, SPRAINS, MUSCLE SORENESS AND STIFFNESS.
WARNINGS:
FOR EXTERNAL USE ONLY.
USE ONLY AS DIRECTED.
AVOID CONTACT WITH EYES AND MUCOUS MEMBRANES.
DO NOT USE ON WOUNDS, CUTS, DAMAGED OR INFECTED SKIN AS WELL AS IN THE EYES, MOUTH, GENITALS, OR ANY OTHER MUCOUS MEMBRANES.
DO NOT COVER WITH BANDAGES.
KEEP OUT OF REACH OF CHILDREN.
IF SWALLOWED, CALL POISON CONTROL
IF CONTACT DOES OCCUR WITH EYES, RINSE WITH COLD WATER AND CALL A DOCTOR.
CHILDREN UNDER 12 YEARS OLD, CONSULT A DOCTOR BEFORE USE.
IF YOU ARE ALLERGIC TO ANY INGREDIENTS IN THIS PRODUCT CONSULT A DOCTOR BEFORE USE.
CONSULT YOUR PHYSICIAN: IF PREGNANT OR IF PAIN PERSISTS OR WORSENS.
DIRECTIONS:
FOR ADULTS AND CHILDREN 12 YEARS AND OVER. APPLY PATCH TO AFFECTED AREA 1 TO 2 TIMES DAILY OR AS DIRECTED BY PHYSICIAN. CLEAN AND DRY THE AFFECTED AREA. OPEN POUCH AND REMOVE PROTECTIVE FILM AND APPLY PATCH TO AFFECTED AREA. WASH HANDS WITH SOAP AND WATER AFTER APPLYING PATCH. RESEAL POUCH CONTAINING UNUSED PATCHES AFTER USE.